BRING ON THE UPTIME
The Benefits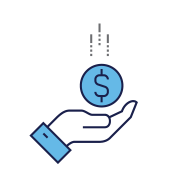 Best TCO for Data Centers
Slash lifetime TCO with lower upfront cost, no battery management system required, longer life and less maintenance.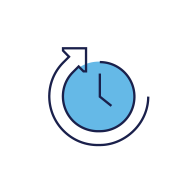 Proven Longer Life
Field testing and customer experience show Deka Fahrenheit's extended battery life reduces the number of battery replacements over the life of the system.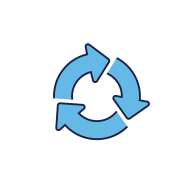 Environmentally Sustainable
Virtually 100% recyclable. Deka Fahrenheit's end-of-life value and recycling helps lower cost of new batteries and ensures a self-sustaining supply chain.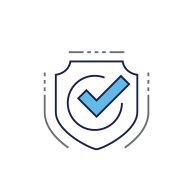 Safe, Dependable
Deka Fahrenheit's technology is a safe, reliable, high-performance solution — giving you added peace of mind.
Flexible, Scalable
Expand and adapt the Deka Fahrenheit battery system as needed, without making a long-term commitment.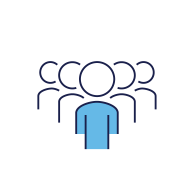 Trusted Battery Experts
Located on over 520 acres in Lyon Station, PA, East Penn is one of the world's largest and most trusted battery manufacturers. We're here for the long run.
The Facts: TCO
Balancing your data center needs isn't easy. But Deka Fahrenheit simplifies your battery-purchasing decision by showing you just how the TCO of our system compares to lithium iron phosphate batteries — bottom line: Deka Fahrenheit customers win big.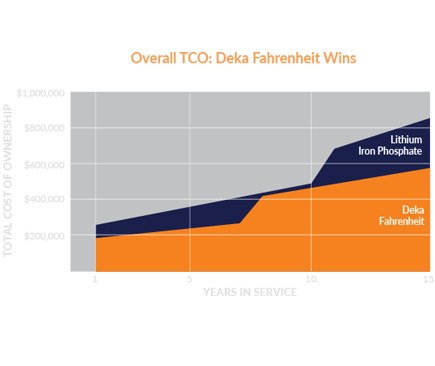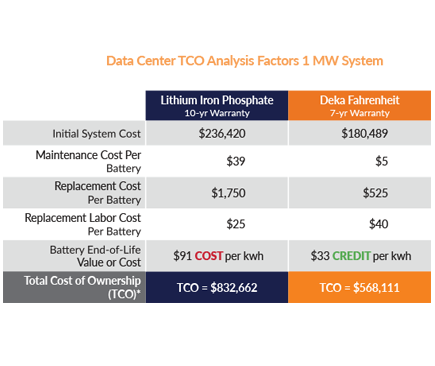 The Specs
The High-Tech Behind
Deka Fahrenheit
Advanced AGM front access design –
Decreases maintenance, improves safety
and longevity
IPF Technology – Optimizes capacity and
reliability
Sustainably designed for recyclability –
End-of-life CREDIT enhances profitability
Microcat Catalyst – Increases
recombination and prevents dryout
Exclusive Thermal Management
Technology System:

THT Plastic – Optimizes internal
compression
Helios Additive – Lowers float current
and corrosion
TempX Alloy – Inhibits corrosion
The Deka Services
Difference
We can install and maintain your Deka Fahrenheit
batteries and your data center will receive extended
warranty benefits. Deka Services provides full-service
turnkey EF&I solutions across North America.

The Next Steps
Do you have the best battery system for your data center? Contact East Penn for a full TCO analysis.